Europe
Published on April 28th, 2013 | by Lisa
Plinko on the rocks; Santorini Escape
Another dream trip. Santorini Greece. 4 girls.  6 days. Lots of wine. Great Food.  That was the plan.
Santorini is gorgeous. Blue waters, pink sand-red sand-white sand-black sand and the most majestic sunset in the world (in my humble opinion). Hues  of sienna, orange, pink, rust-I don't even think I can find the words to describe this beauty.
It was HOT. Temperatures I never experienced before, I loved it. 1 friend arrived days before, and the other had lived for for a few months (her own little get away) and I flew in from London with the 4th girl.  My girls kept making jokes about Plinko. I knew it was a Price is Right referenced but I had no idea what they were laughing about and very much against my curious nature but I never asked.

We basked in the sunshine during the day on the beach, ate wonderful meals for dinner – Gyros, fresh fish and village salad – and the danced the night away at the local night clubs.
I loved the architecture – the white buildings, the blue roofs.  Oia- A must do. Santos Winery at sunset – a must do. Perissa, Kamira, Akrotiri – all must do. Santorini Volcano – a should do. So many experiences to be had. So many memories to create.
We decided to take in some cultural sites and ventured to Ancient Thera (360m high on the Messavouno mountain).  We drove up the winding road which is not for the faint at heart and parked.  I never got the pre warning of what was ahead and I am slightly afraid of heights (ok very much so) but I figured "I'm on holiday and really game for anything". So I never fretted and I was ready to create my experience.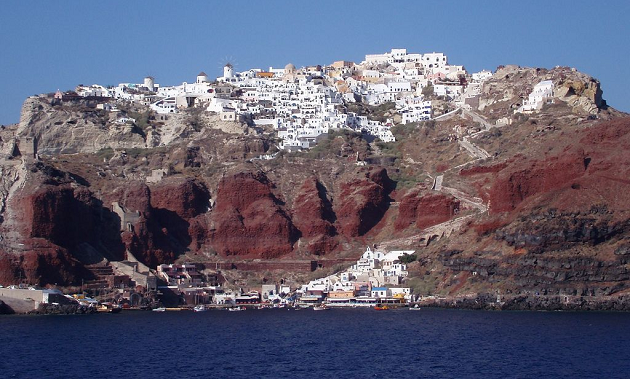 We start walking and walking and walking – up and up and up.  It's hot. The group of 4 slowly break apart as happy wheels demo we proceed on this climb. I will fully admit I was the straggler. We finally reach the top, I'm proud we reach the top and I conquered the climb! I'm sweating – profusely. I must add I'm not a sweater.  I never really have been – I always considered this a blessing.  This was an uncomfortable feeling for me.  I had no water (bring water and lots of it).
We start walking through the ancient city "admiring" all it has to offer. I take a break and sit on a rock. It was the heat and I really should have brought some water. My friend who sees the beauty in everything is fully admiring and loving every minute of these ancient sites.  The way life once was – the theatre, the centre of public life, the private dwellings…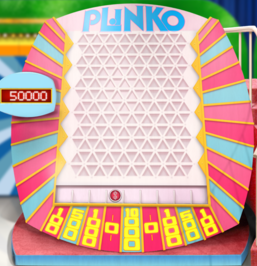 As she is describing what she sees and how much she loves it, I slowly feel a bead of sweat roll off my forehead, down the side of my hairline, go down my neck, roll down my spine, and then down the crack of my derrière – once it landed I jumped and proceeded with a squeaky "oh". My friends laughed and yelled PLINKO. At that moment I realized what the joke was and my memory of the Price is Right game returned to me. It was the game where you dropped a ball, it had to go down a maze and then fall into a hole to win a prize. My body had become that maze.
I turned to my friend and said I don't see the theatre. I don't see the houses- I just see rocks.  It may have been the heat but we all busted out laughing.
Have you ever been on holiday and missed the beauty and only saw rocks?
I just saw rocks!  Beauty really is in the eye of the beholder.